April 13th 2007
(last updated: 27 September 2007)
In the summer 2007 13 students of the University Jena (Germany), five students of the University Tbilisi (Georgia), and their teachers took to the mountains of the Greater Caucasus to collect plants and impressions. The excursion took them to Pshawi, Khevsureti and Kazbegi region in the eastern part of the Central Caucasus…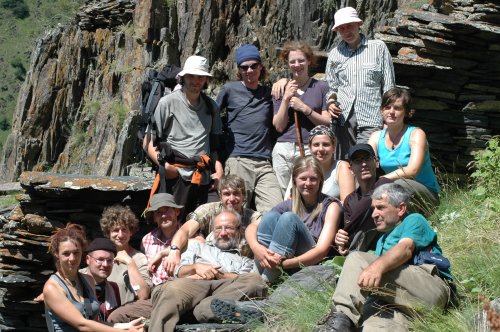 back: Mathias Krauss, Nicolai Trefzger, Judith Trefzger, Anne Mraja; middle: Elena Höhne, Anja Schober; front: Maude Luxemburg Erasmy, Stefan Oboba Otto, Andreas Berghänel, Andreas Lindig, Hans-Joachim Zündorf, Christian Kaufmann, Tina Tiniko Keller, Karsten Major Swinnes, Shamil Shetekauri (foto at Mutso, August 2007)
Route

Our excursion began in the beautiful Matura valley in the Pshawi region in NE Georgia. The ascent from 1500 m NN to a pass near 3000 m NN prepared us for our subsequent hikes in Khevsureti. We found the lower part of Matura valley to be a beautifully wild mountain forest with lots of mosses growing on dead trees in the undergrowth. Only a small path wound through this wilderness crossing the wild river once in a while on shaky wooden bridges.

North of the pass we hiked down into Khelmok'le valley in Khevsureti. The meaning of its name - short hand - inspired a number of theories as of where this name came from but we will always remember this valley because we almost didn't get out of it. It lower entrance (our exit) was blocked by an old ice-shield from the last winter. I still don't know how we managed to get out of it without casualties.

From Khelmok'le valley we passed Khakhabo, Ardoti and Mutso on our way to Khone where we set up our base camp to explore the mountains above Khone and Ghuro valley north of Adzunta pass.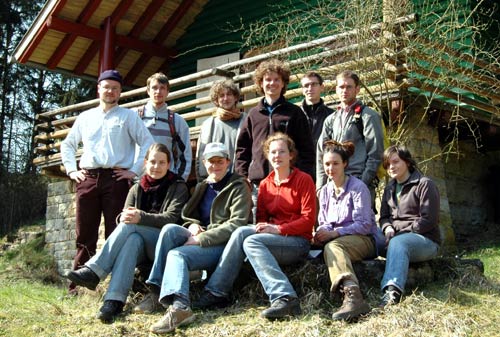 back
: Stefan Otto, Christian Kaufmann, Andreas Berghaenel, Nicolai Trefzger, Karsten Swinnes, Andreas Lindig;
front
: Elena Hoehne, Anne Mraja, Judith Trefzger, Maude Erasmy, Anja Schober (fotos
in Themar, Germany, April 2007))

Exkursions-Ziele
Ziel der Exkursion ist die Region
Khevsuretien
im Nordosten Georgiens (
-> Route
). Im Juli und August 2007 wollen wir die Hochgebirgsregionen rund um die Täler der Flüsse Argun, Kharokis-Tsqali und Assa erkunden und Pflanzenbelege für die Sammlung des Herbarium Haussknecht (Jena) sammeln.Außerdem ist ein Abstecher über den Tshaukhi-Pass (3300 m, =Juta-Roshka-Pass) zum
Kasbek
(5048 m) geplant.Die theoretischen
Vorbereitungen
beinhalten ein Seminar im Herbarium Haussknecht, wo sich die Studenten in Vorträgen und Diskussionen auf die Geographie, Vegetation, Tierwelt, Landeskunde & Kultur des Kaukasus sowie die Durchführung einer mehrwöchigen Hochgebirgsexkursion vorbereiten.Auf der Exkursion werden wir alle notwendigen Ausrüstungsmittel (u. a. Sammelmappen für Pflanzen, Bestimmungsliteratur) mit uns führen und in Zeltlagern bzw. Berghütten übernachten. Einige lokale Bewohner und Pferde sollen uns dabei unterstützen. Ein Beispiel für die mitgenommene Ausrüstung findet ihr hier:
packliste.pdf
.Die georgische Sprache ist eine Sprache aus dem kaukasischen Sprachenkreis. Die größte Lernbarriere bietet anfangs das Erlernen des georgischen Alphabets. Das Alphabet und einige Wortbeispiele findet ihr hier:
georgisch.pdf
.